Today's water crisis is only getting more difficult to navigate in California.
In 2014, groundwater became required to be managed through California's new groundwater regulations, known as SGMA. While the state is home to much of the US agricultural production, particularly in fruits and nuts, its growers face the challenge of farming with limited groundwater supplies and dealing with severe droughts in the region.
We'll be walking through the basics of what you need to know about SGMA, plus tools that can help growers make the most out of limited water supplies.
What is SGMA?
SGMA, or the Sustainable Groundwater Management Act, was passed in 2014 to stop the progress of six negative results of overuse of groundwater. The goals outlined in the act (its definition of sustainability) must be met by 2042.

Sustainability indicators from the Sustainable Management Criteria - Best Management Practices for the Sustainable Management of Groundwater by California Department of Water Resources


Groundwater is critical for California because it is used by most of the population as the primary water source for both domestic uses and food production.
The Department of Water Resources (DWR) identified over 450 basins or sub-basins across the state. 94 of those basins were classified as medium or high priority—these are areas where SGMA applies.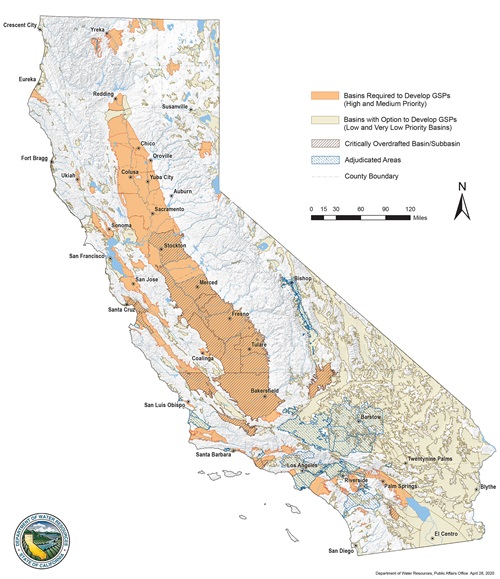 Map of basin prioritization in California for SGMA, as of May 2020 (from the California Department of Water Resources)
SGMA Timeline
2014

SGMA was signed into existence.

2017

GSA was required to be formed.

2020

Critically overdrafted basins GSP's required to be submitted.

2022

High/Medium basins GSP's required to be submitted.

2042

Sustainability requirements must be met.
SGMA Basin Requirements
In true government fashion, new regulations means the implementation of many new acronyms. SGMA was the first but brought many others to play.
SGMA requires the formation of Groundwater Sustainability Agencies (GSA's) to govern each basin. While every basin must be included in a GSA, basins/sub-basins can be governed by one or multiple GSA's.
GSA's are then required to come up with a Groundwater Sustainability Plan (GSP). A GSP takes into account the basin's historical data to drive actions that will bring about suitable conditions to meet the sustainability goals. GSP's are submitted every five years to the DWR to assess the actions being taken and to review progress.
GSP Components
When plans are submitted they must include five things.
Administrative information.
Basin Setting (ie: groundwater conditions)
Sustainable Management Criteria (ie: minimum thresholds to be met)
Monitoring Networks
Projects and Management Actions
To recap, GSA (Makes Plans) → DWR (Approves Plans) → SWRCB (State Water Resources Control Board) (Enforces Plans)
How Technology Can Help
Using tools outside of what your local GSA's provide can help you to get on-farm insights tailored to your operation, better justify your decisions, and protect you if regulations are heavily enforced.
Here are a few tools from Semios that can help.
1. Informing Irrigation Plans with Evapotranspiration Monitoring
Evapotranspiration (Et) is the basis of any irrigation monitoring system. However, most Et measurements are taken for weather stations many miles away from your farm. Meanwhile, weather varies even at a short distance, creating microclimates with conditions specific to your farm alone.
Semios provides on-farm weather stations and where our mating disruption products are used, mini-weather stations in the dispensers to make it possible for us to create heatmaps of your farm that show areas of your operation where conditions are more harsh or mild. This provides you with the most accurate Et data to inform your irrigation schedules.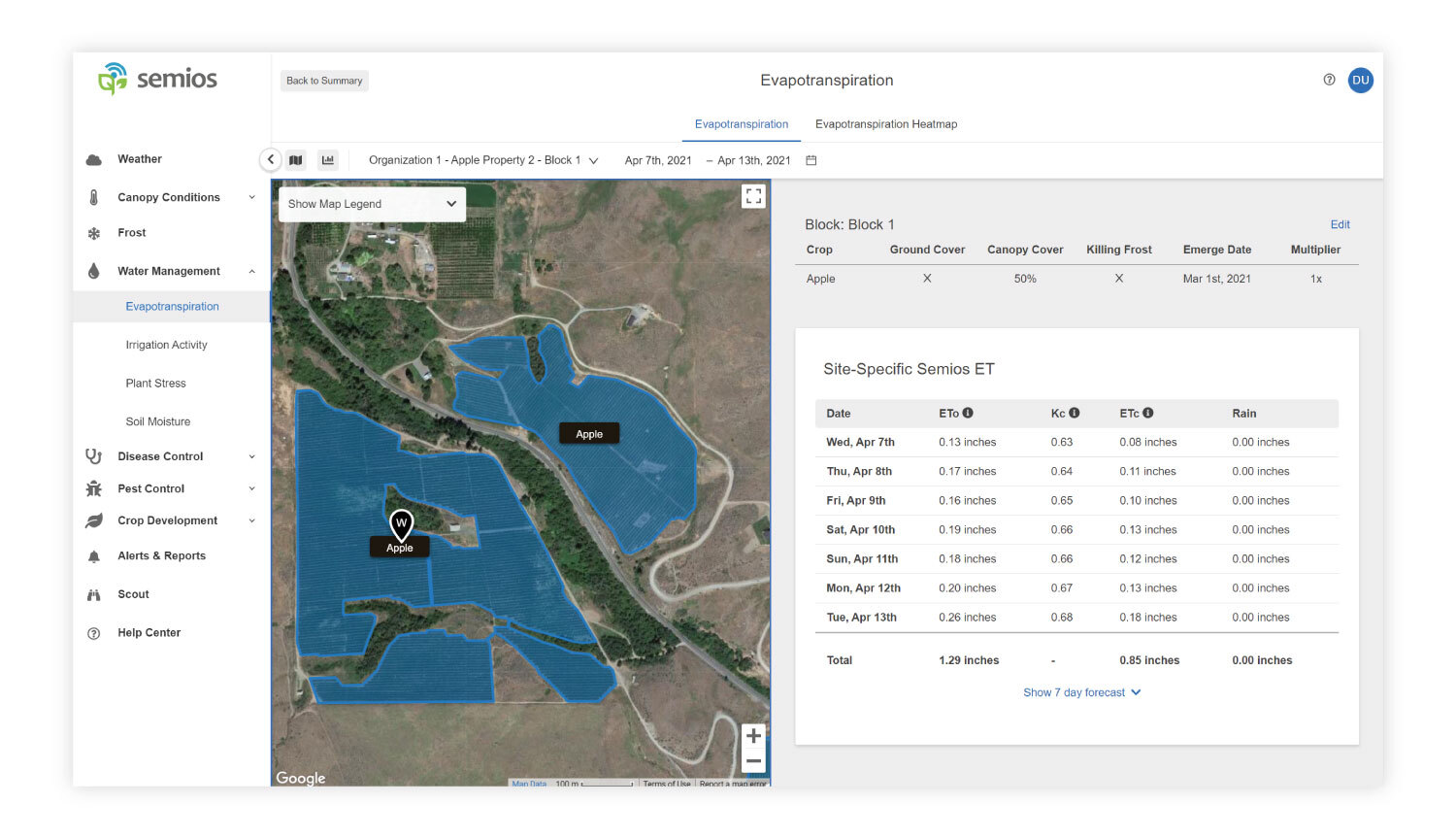 2. Managing Deficit Irrigations with Soil Moisture and Plant Stress Monitoring
In a world where there is no shortage of water you can irrigate according to the complete satisfaction of your plants.
However, with limited allocations and limiting regulations, it is important to practice deficit irrigation during periods where a fully-hydrated tree is less critical in order to stretch the water further.
Using data collected from soil moisture probes, we have added clearly defined stress ranges on our soil moisture graph so you can choose how much stress you would like to induce on your plants—no complicated adjustments or settings changes are needed. You can choose the color that matches the level of stress you want to achieve and keep the soil moisture lines in that range.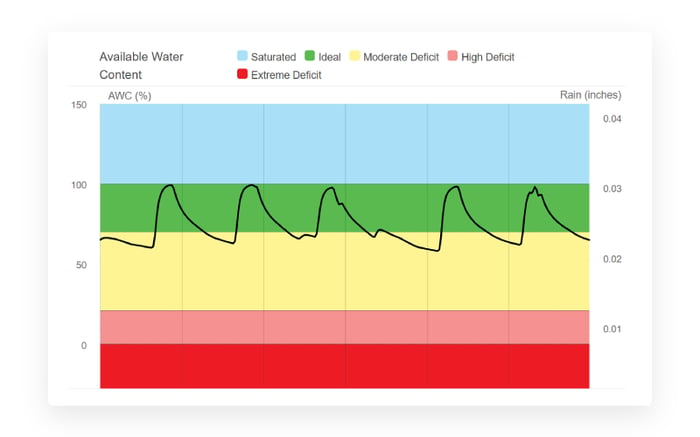 Trunk dendrometers are another way to manage stress and water supplies.
Instead of only looking at the soil with soil moisture sensors, or at the weather with Et, trunk dendrometers measure how a tree reacts to the amount of moisture available in the soil. A plant water index reflects how much stress the tree is under and can help guide irrigation timing decisions.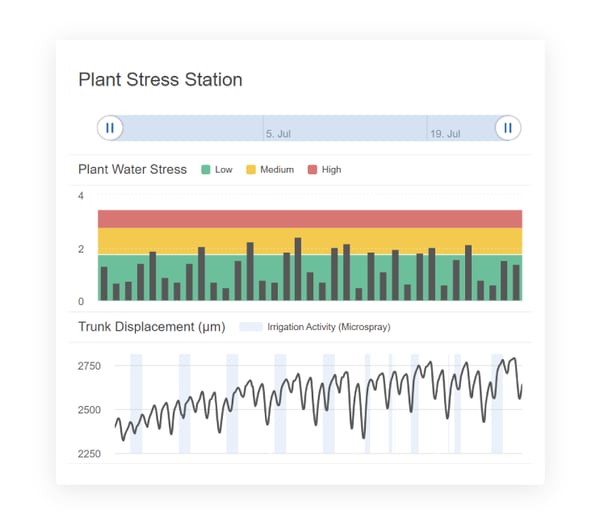 3. Tracking Water Use with Flow Meter Monitoring
Reporting is another requirement of SGMA mandates. While the primary responsibility lies with the GSA's to report the data, some of that data will be pulled from grower-owned devices. Even when it isn't, knowing and tracking your own use protects you should errors in reporting occur.
Altrac by Semios offers real-time flow meter monitoring so you can stay informed on irrigation consumption and automatically document your water use for your records or for SGMA/GSA reporting.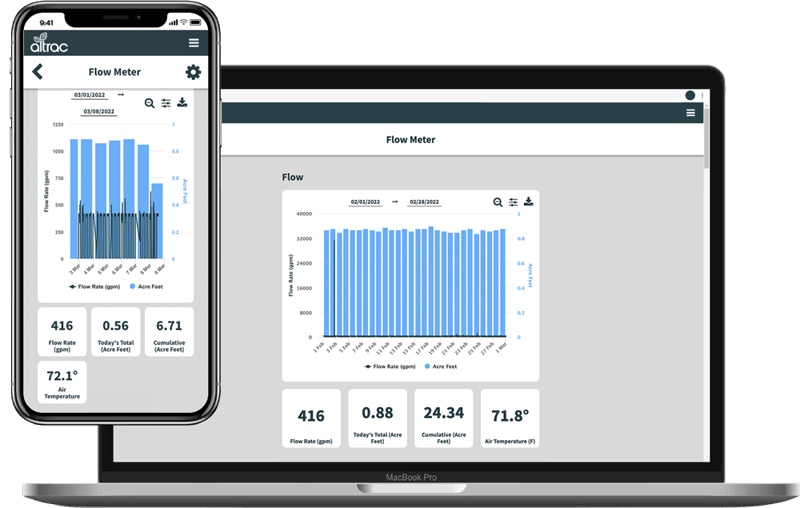 Regulations and drought are the unfortunate reality for California farmers. While they make life and farming more difficult, California farmers have always risen to the challenge. And whenever you need support, Semios is here to help you get the best outcome with your water, whatever your situation may be.