We're excited to announce the launch of our Managing Navel Orangeworm Video Series which will be updated throughout the 2023 season to provide practical pest management tips alongside regional navel orangeworm trap activity and degree day updates.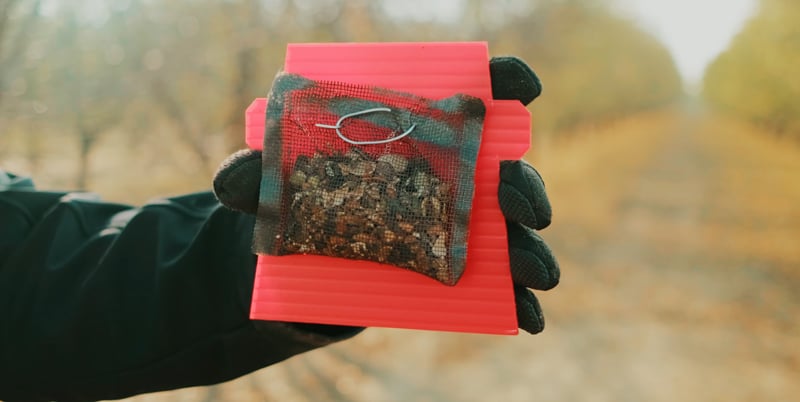 These videos are designed to help Semios users learn how to leverage the new trap data they'll be seeing this year with our switch to nutmeal lures in Semios navel orangeworm traps. They'll also be a useful resource for growers and PCAs looking to make more informed navel orangeworm pest management decisions with the help of better data.
Who is this video series for?
Semios users managing navel orangeworm in almonds or pistachios
PCAs or growers looking for navel orangeworm management tips
Anyone looking for updates on California regional navel orangeworm insights and trends

Jump to a section:
Managing Navel Orangeworm Video Series
1. Introduction to Nutmeal Lures


Video overview:
Managing navel orangeworm under mating disruption can be difficult if you don't have the right data.
In this video, you'll learn how different lures used in navel orangeworm traps can affect the usefulness of the trap data and why we've decided to switch over to using nutmeal lures.
You'll see the benefits of nutmeal lures in action after walking through an example of real navel orangeworm trap data collected on a ranch in California, and how it can be used to inform pest management decisions.
You'll then gain some tips on how to prepare for the start of the navel orangeworm season to set yourself up for success.
2. Mid-season Regional Navel Orangeworm Update
Video overview:
In our first regional update, we're providing novel insights from our California-wide navel orangeworm monitoring network of over 1,000 nutmeal lure camera traps. The data and insights we share in this video are meant to help guide your on-farm navel orangeworm management decisions, including setting your biofix.
Biofix is an identifiable point in the navel orangeworm's life cycle at which we can begin degree-day accumulations (UCANR). Setting a biofix can help you better predict upcoming navel orangeworm flights and plan hull split sprays.
We start off with a look at regional navel orangeworm data related to trap activity. Here are our average year-to-date trap catches for the 2023 season, up to May 26th.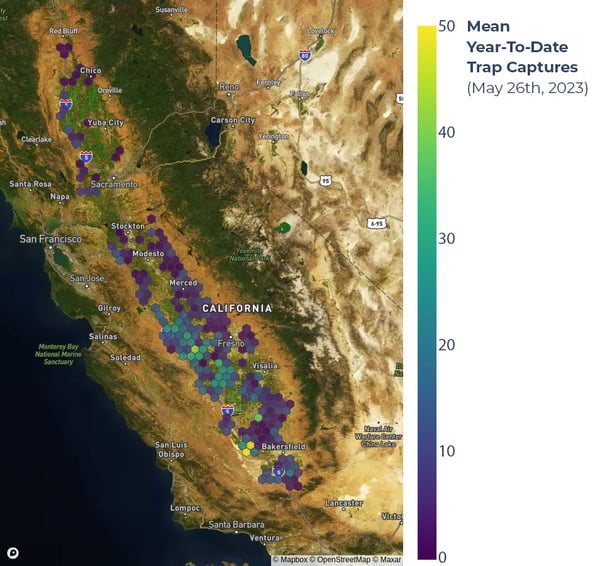 A map of California showing the average year-to-date NOW trap catches for the 2023 season up to May 26th. The light yellow and green areas highlight regions with higher trap catches, while the dark blue and purple areas have fewer or no trap catches on average.


In the video, we walk through examples of how you can use both farm-level and regional-level data to help guide your navel orangeworm management decisions.
💡 This year, Semios customers can request a custom navel orangeworm trap capture report for their ranch that compares their farm's trap captures to average trap captures at the regional and state-wide levels. This is a brand-new feature being tested this season. We're excited to offer Semios customers a free sneak peek.
Next, we discuss how the weather has been influencing navel orangeworm behavior this year, and share some regional temperature and degree day progression insights.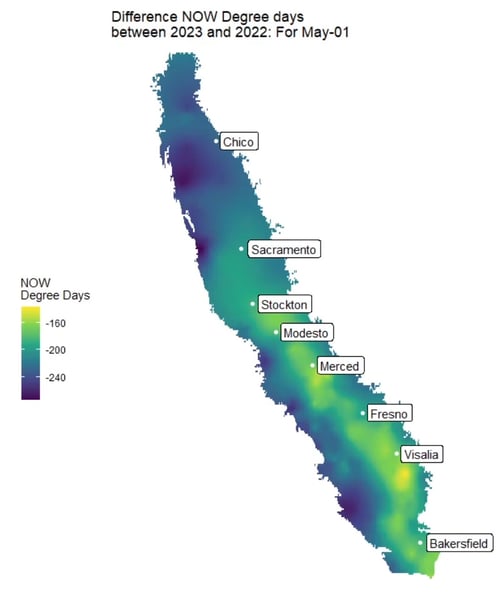 A map of California showing the difference in navel orangeworm degree-day accumulation between the 2023 and 2022 seasons. On average, all regions are behind in degree-day accumulation compared to the previous year.


Overall, the start of the 2023 season has been much cooler than in recent years, leading to fewer degree days being accumulated so far. However, this has varied by farm and by region, so we recommend checking your on-farm weather and trap capture data to see how this will impact you.
💡 Semios customers can check their site-level trap capture, degree-day accumulation, and historical weather data on the Semios crop management platform:

Subscribe for Email Updates
Don't miss our next update! Fill out the form below to be notified when a new video in our Managing Navel Orangeworm series is released: