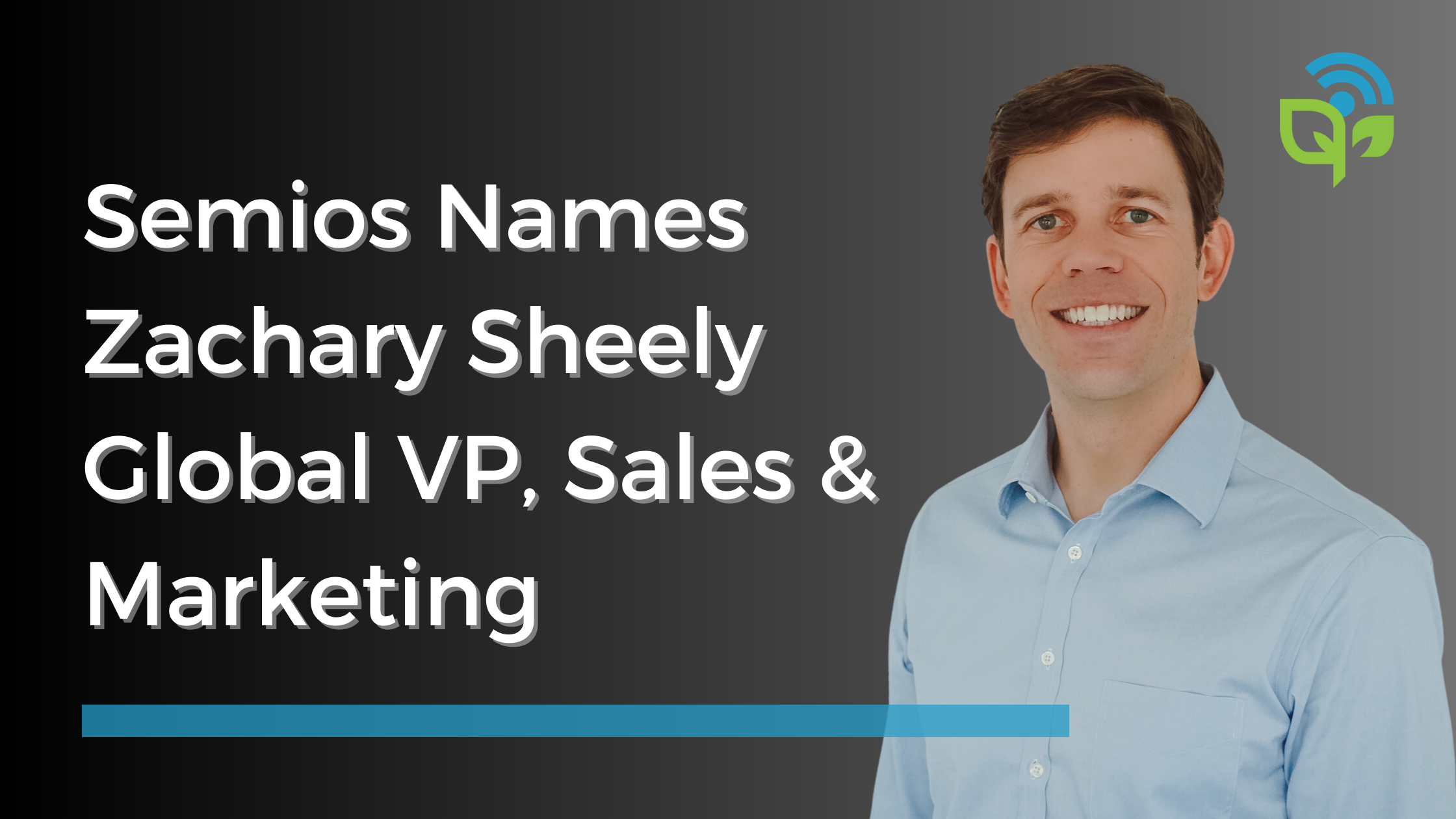 Under Sheely's leadership, Semios will unify and align its market-facing activities to maximize customer value and drive awareness for Semios' best-in-class crop management platform.


VANCOUVER, British Columbia, June 27, 2023 — Semios Technologies Inc. announces the appointment of Zachary Sheely as Global Vice President of Sales and Marketing. This change signifies the company's commitment to aligning its business and market offerings to maximize the potential of its exceptional teams, market position, and unparalleled product offerings. With customers increasingly relying on the Semios platform as an essential foundation for farm management and crop production activities, this change paves the way for further growth, engagement, and value for customers.
Based in Sacramento with over 20 years of leadership experience in agriculture, Zach is deeply committed to serving ag professionals and driving industry success. With a holistic understanding of the industry gained through serving growers, agronomists, PCAs, and ag retailers he is well-positioned to elevate the customer experience and bridge the needs of end users, integration and industry partners with Semios' innovative product offerings.
"My family's farm business realizes direct benefits from the Semios platform with solutions like mating disruption, advanced farm management software solutions, and irrigation scheduling and monitoring. This hands-on experience has deepened my personal connection to the company's mission and I am excited to continue my work with this amazing team and for the opportunities ahead" says Sheely.
Zach previously held the position of President at Agworld North America and played a critical role in leading the company from its launch in North America in 2012 to its market-leading position within the Semios business today.
About Semios
Founded in 2010, Vancouver-based Semios offers Precision Agriculture as a Service™ that includes real-time crop data and pest management tools for ag professionals. Leveraging a network of sensors that provide more than 500M data points measuring climate, water, insect and disease activity daily, we apply big data analytics and machine learning to reduce and mitigate crop risks and automate daily activities. Semios has been named to the Global Cleantech 100, an annual list of the 100 most innovative cleantech companies globally, and the Thrive Top 50, list of the 50 leading global AgTech companies. Semios continues to grow its crop management platform by partnering with other leading decision-aid farming solutions and recently acquired Agworld, Altrac and Centricity to deliver more value to ag professionals under one login. Learn more about Semios at www.semios.com.


For media inquiries please contact:
Laura Ehman
Semios Marketing & Communications Manager
1-509-860-0028
lehman@semios.com