Oriental fruit moth (Grapholita molesta), or OFM, has resurged in importance as a pest for organic apple growers in Washington in the last few years. The biology of this pest is well described, but there is still much to be learned about of OFM in this region.
With some Washington growers facing the second flight of their OFM populations, we will be sharing what we saw in 2020 and what we've seen this season so far, as well as some tools to help you better manage the pest.
How is OFM distributed across Washington state?
OFM has been reported as a concerning pest mainly in the lower Yakima Valley.
Semios traps show that so far in 2021, OFM observations remain concentrated in this region, with a few observations seen in neighboring areas.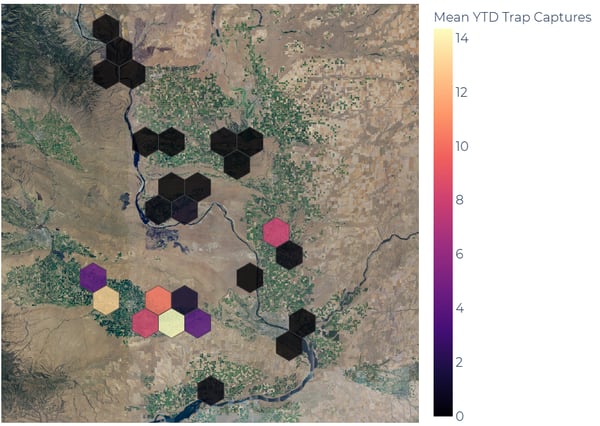 Fig 1. Mean Oriental Fruit Moth trap captures in regions with Semios traps (up to June 11th 2021). Traps are baited with Trécé OFM Combo lures located in mainly mating disrupted blocks.
When was the emergence of OFM?
OFM flight was expected to begin in mid-April, according to timelines by Washington State University.
This lined up with what we observed in Semios traps. This year, we caught our first OFM on March 24th, while consistent trap captures began in early April.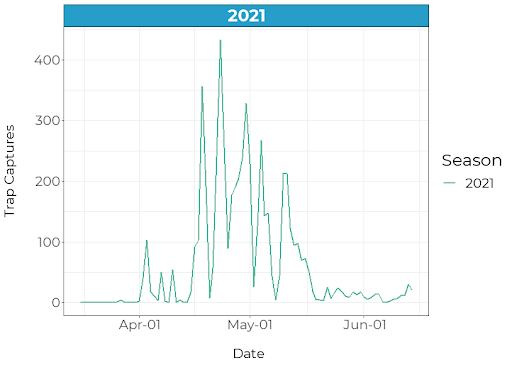 Fig 2. Top: Total OFM trap captures from multiple Washington orchards in 2021.
Bottom: OFM Life history timelines from Washington State University.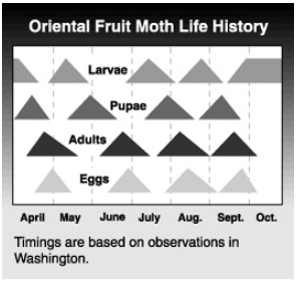 When is the expected second OFM flight?
Degree-day accumulations are used to predict the start of the second flight of OFM. Growers in the region have been encouraged to reference the degree-day timelines listed in University of California stone fruit extension resources which predict the second flight to occur 920 to 1010 degree days after the first flight.
Semios trap captures from 2020 suggest that despite a different host crop, these timelines are not far off for pome fruit in Washington with ~ 1175 degree days (°F) seen between flight peaks.
Based on these timelines, we will be expecting this year's second flight to be peaking around late June.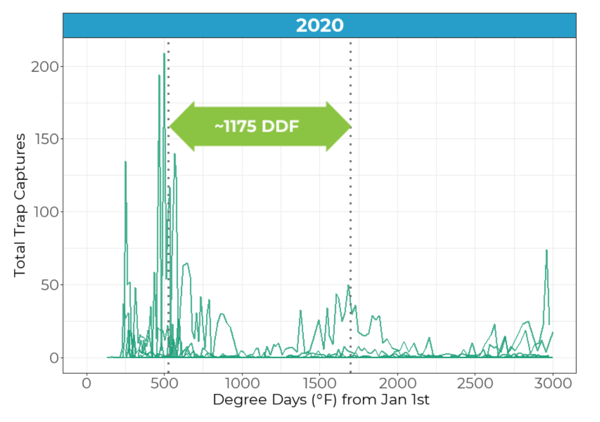 How to better manage OFM with Semios
In order to get the most from insecticide sprays, it is important to time them according to the pest life stage.
In regions in North America where this pest is found, targeting the 1st and 2nd generation of larvae has been shown to be most effective. This is because adult OFM activity is more uniform compared to later generations and is typically easier to target.

Degree day models can be used to predict when different pest life stages occur. While degree-day models have been developed for OFM in the past, regional quirks and host crops can result in regional differences and therefore a model developed in one region may not translate well to another.

To provide growers with a more accurate model, a degree-day model developed specifically for pome fruits in Washington is available to Semios customers under the Oriental Fruit Moth Pest Phenology tab. This new tool for managing OFM lets growers see how their trap captures from the current and past seasons line up with the Semios regional model. Growers are also able to track their forecasted degree day accumulations and OFM flight progressions up to seven days in advance, allowing more time to plan for sprays.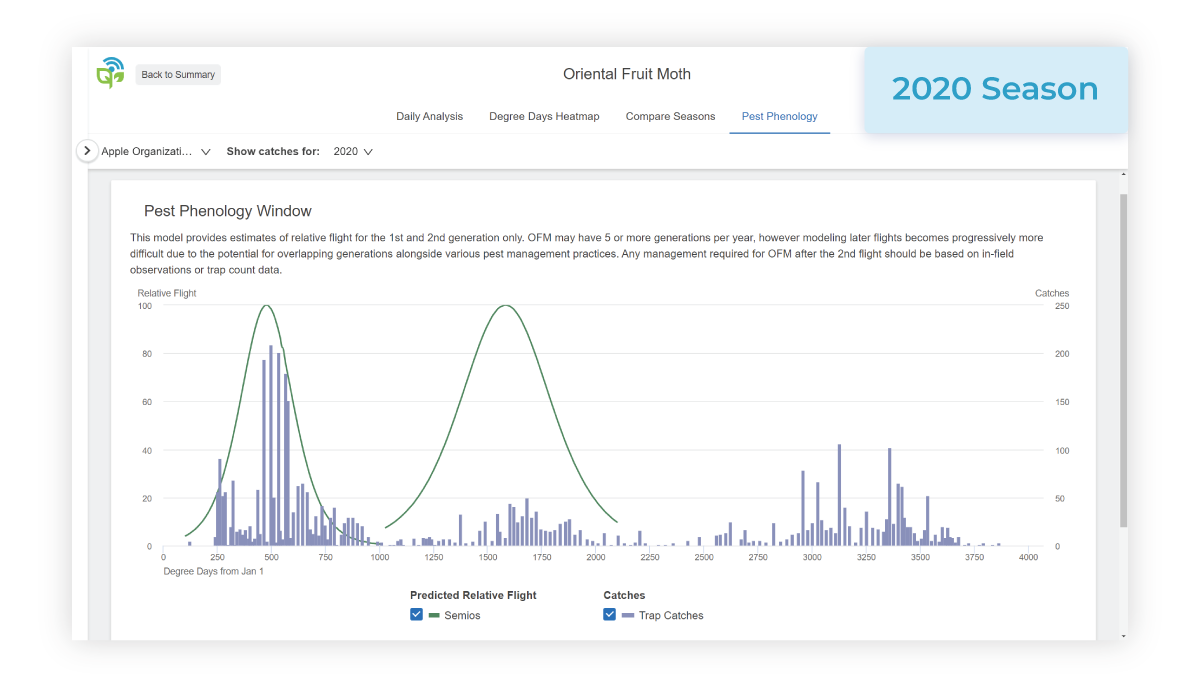 Fig 3. Semios OFM regional degree day model (green line) overlaid on actual trap captures for the previous season (top) and current season (bottom).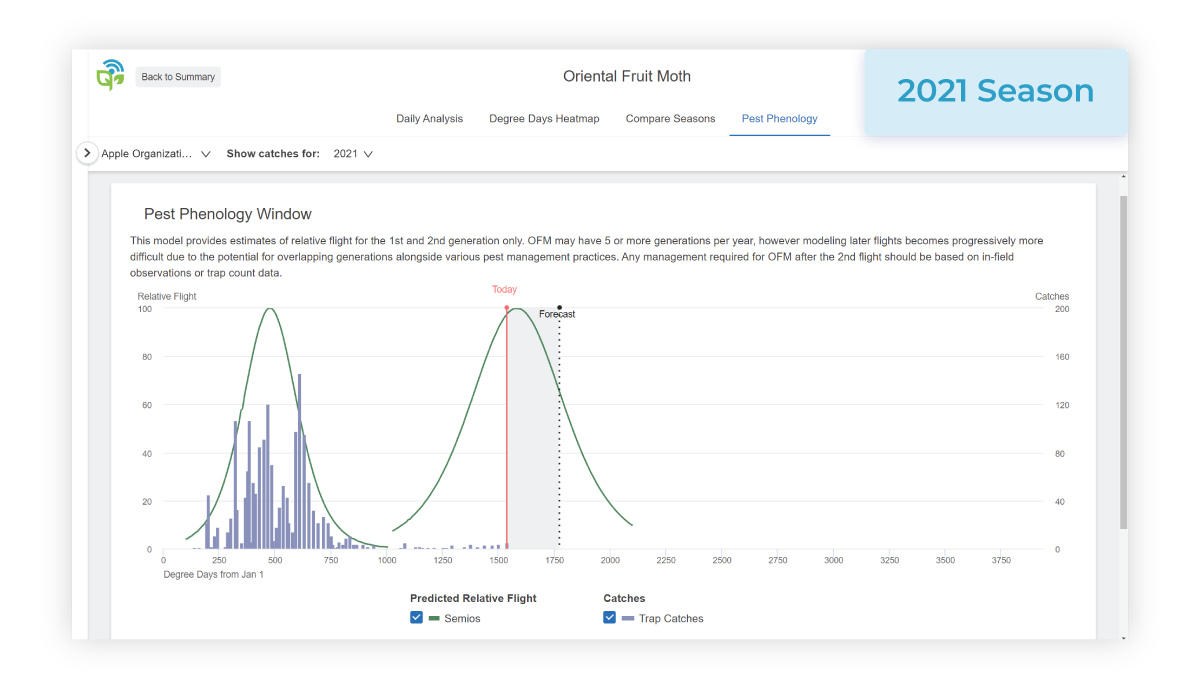 Old pest in a new environment
With a changing climate and evolving management practices, growers will find it reassuring that many management guidelines developed from decades past are still very much applicable today.
Alongside the new Semios OFM phenology tool, Semios helps growers more effectively manage OFM populations all from one platform that offers:
Variable rate mating disruption that provides maximum protection when your crop is most vulnerable as well as late season coverage
Automated camera traps to save time scouting and better understand moth flights
Per-acre degree day heatmaps to help accurately plan sprays
We will continue to share what we are learning about OFM as the 2021 season continues to unfold. Leave us a comment below to share how OFM populations have impacted your orchard in the last few years, we'd love to know!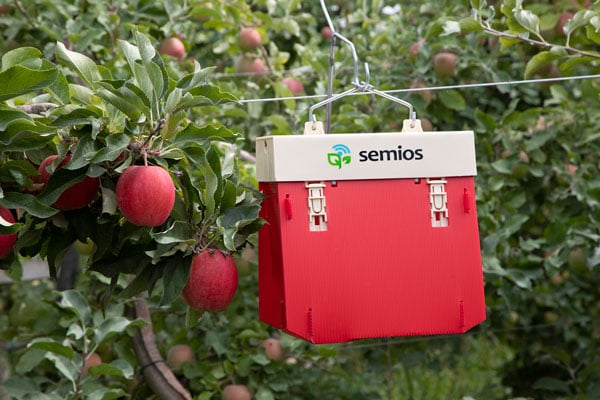 Want to see how Semios can help you better manage your OFM populations? Contact us to learn more.
References
Related Posts
Semios Insect Pest Management Tools