Semios started monitoring navel orangeworm (NOW) activity for the 2022 season throughout the Central Valley in late February this year, and it did not take long for us to catch our first moths.
Average NOW Trap Catches in Central Valley
Here are our average year-to-date trap catches for the 2022 season so far, from late February to mid-April.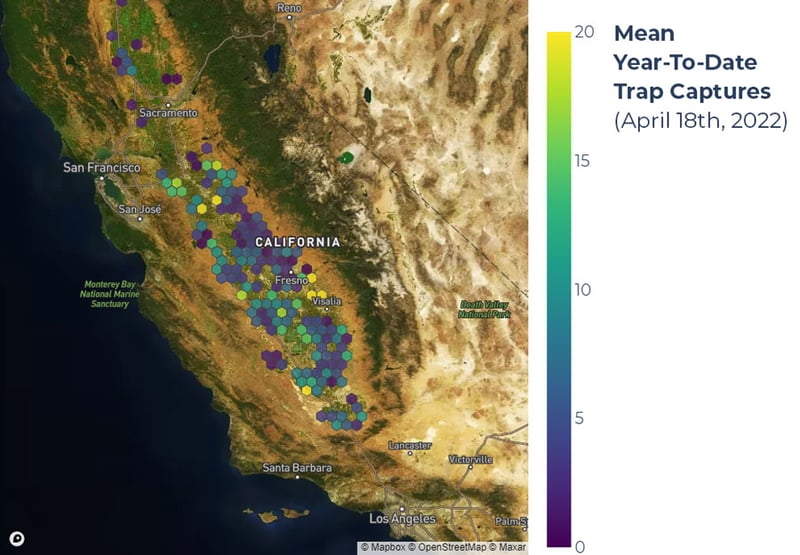 A map of California showing the average year-to-date NOW trap catches for the 2022 season up to April 18th. The light yellow and green areas highlight regions with higher trap catches, while the dark blue and purple areas caught fewer or no trap catches on average.


Some general observations of NOW trap catch patterns include:
Higher NOW activity on the southwestern limits of the San Joaquin Valley.
Lower NOW activity up North near Sacramento.
Comparison of Trap Catches in Almonds and Pistachios by County
In the two charts below, we took a look at how NOW trap catches varied over time in almonds and pistachios in Fresno, Kern, Kings, and Madera counties.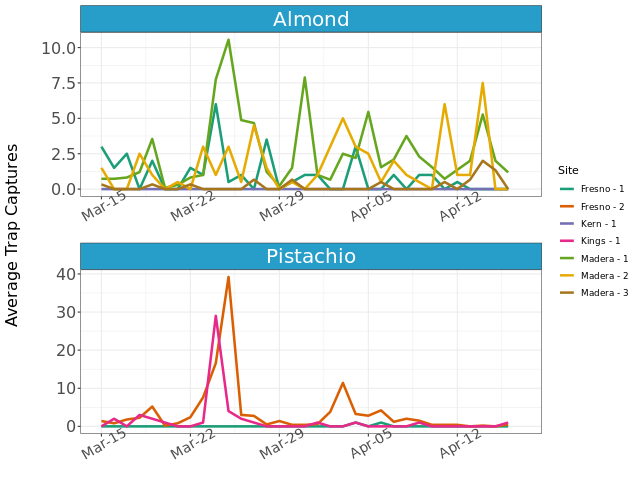 Traps set in almonds have been consistently active since February, whereas we recorded peak activity in pistachios during the last week of March in Fresno and Kings counties.
Tools for NOW Management
As we head deeper into the growing season, here's a roundup of key Semios tools and management practices that will help you keep NOW under control.


General Spray Timing Tools
1. Set your biofix and degree days alerts
Traps may not provide a clear picture of NOW flights for those of you using mating disruption. By placing egg traps in your NOW hot spots, you can set a biofix to track NOW development.
Stay on top of key degree days thresholds to ensure your spray timing is well aligned with NOW activity on your farm with the help of the following Semios tools:
Cumulative degree days graph and forecasting

Degree day alerts

Growing degree day calculator
All of the tools above use in-canopy degree day readings for the most accurate reporting.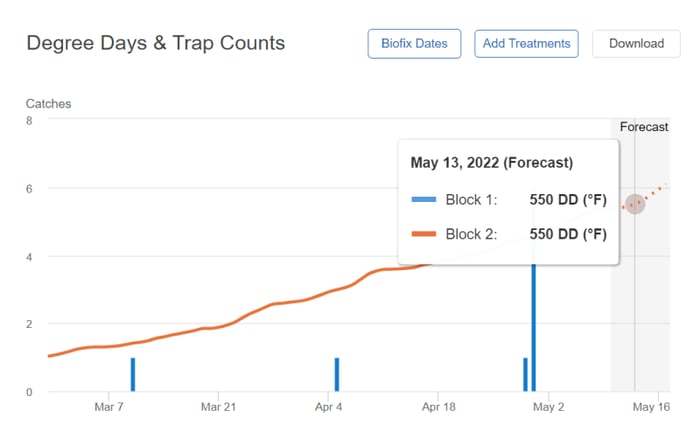 Semios' Degree Days Graph and Forecast
2. Check your farm's hot spots using a per-acre degree day heatmap
For those with a lot of area to cover, the per-acre degree days heatmap helps identify where to start spraying first. Target the warmer, more vulnerable areas first to boost the efficacy of your sprays.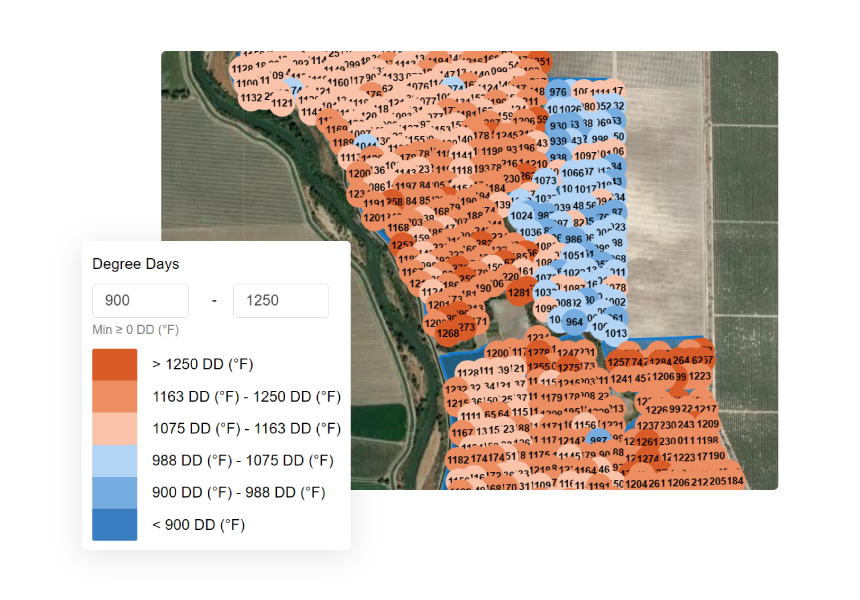 Semios' Per-Acre Degree Days Heatmap
3. Check the spray conditions forecast
After narrowing down the dates, how do you know precisely when you should spray for maximum impact? Semios provides a daily and hourly spray conditions forecast that factors in wind, rain, environmental temperatures, and inversion data.
Look for time slots highlighted in green since those will have ideal conditions for spraying: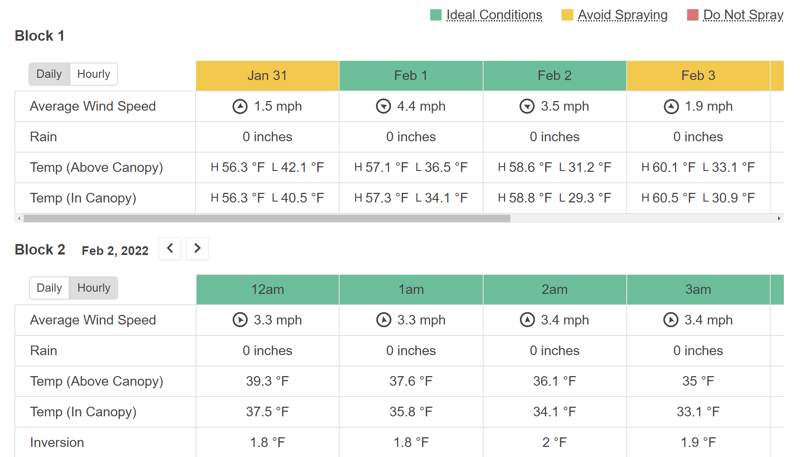 Semios' Spray Conditions Forecast
Hull Split Spray Timing
Good timing on hull split applications is challenging but essential to protecting your almond crop.
Semios' hull split model provides a 90 day hull split prediction so you can get a head start on planning logistics and better time your NOW sprays. The hull split model provides:
A hull split forecast by on-farm weather stations for different almond varieties.
A per-acre hull split forecast to help identify warmer areas of your farm where almonds may be splitting earlier. This is particularly helpful for planning logistics on larger ranches.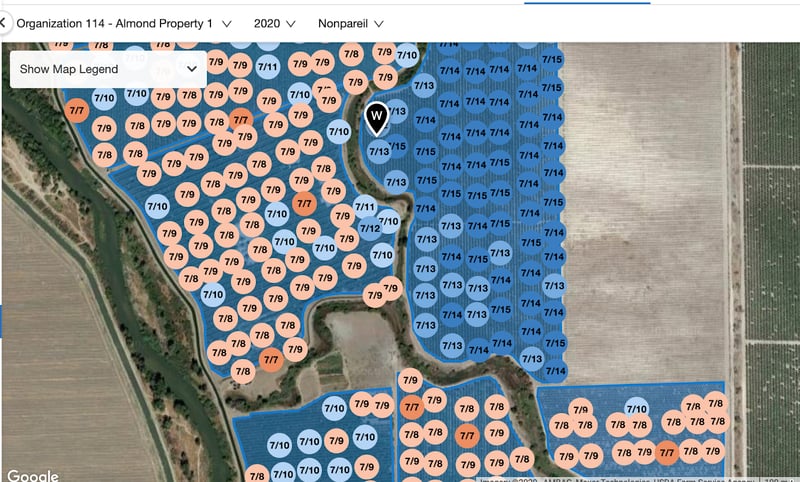 Semios' Per-Acre Hull Split Forecast
Inducing Deficit Irrigation Around Hull Split
Water management is important for NOW management at hull split.
Well-timed deficit irrigation helps advance splitting and dry your nuts out more quickly and the regulated stress can reduce the window of time that your orchard is vulnerable to damage. You can read our guide on deficit irrigation around hull split for more tips.
By using Semios water management tools, you can make more informed decisions and maintain your trees' stress at the desired level:


1. Use soil moisture graphs to ensure you're inducing stress at the desired level.
Based on the MAD (Management Allowable Depletion) target you set and using data collected from soil moisture probes, the Semios Available Water Content Graph provides clear color-coded regions for different water deficit levels. You can use the ranges to stay within the desired deficit level and adjust your irrigation plans accordingly.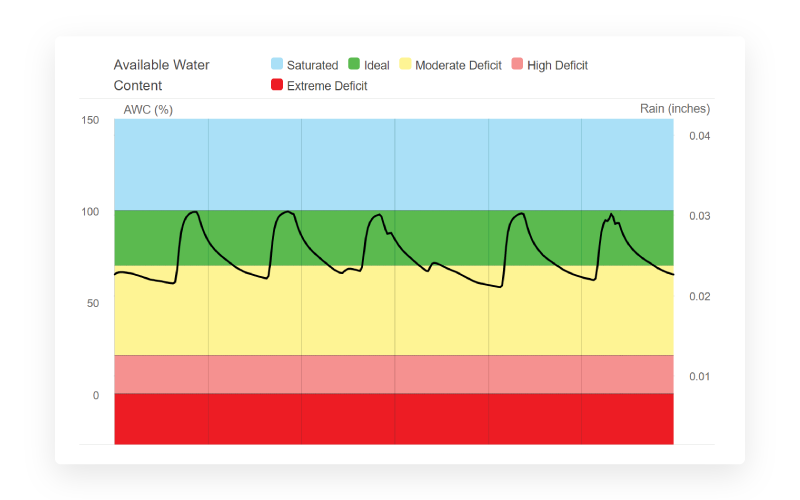 Semios' Soil Moisture Graph
2. Dendrometers can be used to indicate your trees' stress level based on trunk displacement.
To prevent causing long-term damage to your trees from the induced water deficit, you can refer to the Plant Stress Graph. This graph shows your trees' stress levels based on maximum daily shrinkage (MDS) data collected from dendrometers.
This is a good way to double-check that your deficit irrigation strategy is working properly and not causing excessive stress for your trees.
However, not all dendrometer-based plant stress tools are the same, and you can read more about the science behind the Water Stress Index that powers Semios' plant stress insights.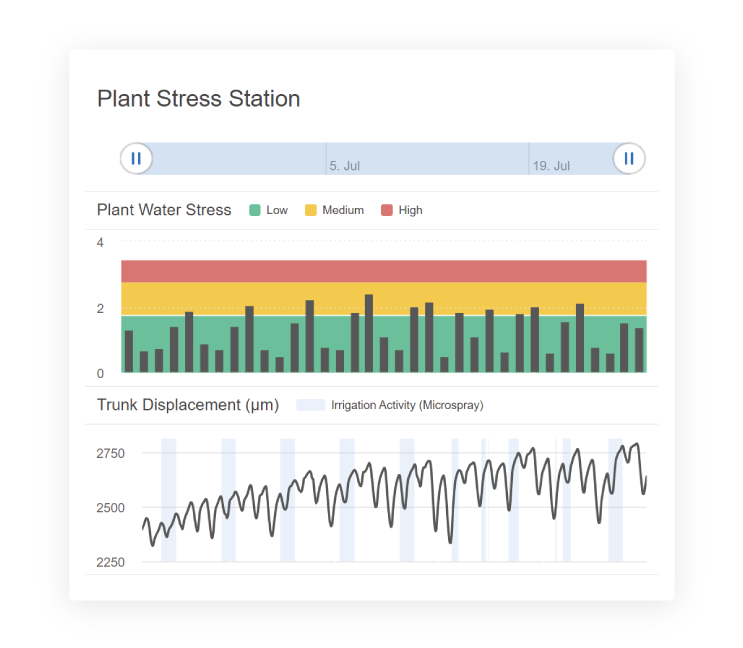 Semios' Plant Stress Graph
If you have any questions, our entomologists, PCAs, and Irrigation Specialists can help. Leave us a comment below or check out the blog posts below for more management tips: