Following Semios' acquisition of Agworld in 2021, our two teams have been hard at work to bring our customers a more seamless, unified experience.
Many of our current users have asked for the ability to view Semios' on-farm, hyperlocal weather and pest data on the Agworld farm management platform to cut down on the number of screens and logins needed when writing and reviewing recommendations. We're excited to announce that we're delivering on our customers' requests with the new Agworld integration.
Semios' Agworld Integration Overview
Agworld, used by growers, farm hands, agronomists, and many other stakeholders, help users collect and share data at every level of the farming operation. As part of the Agworld platform, users can recommend and apply pesticides with confidence knowing that they are complying with label application rates and safety instructions.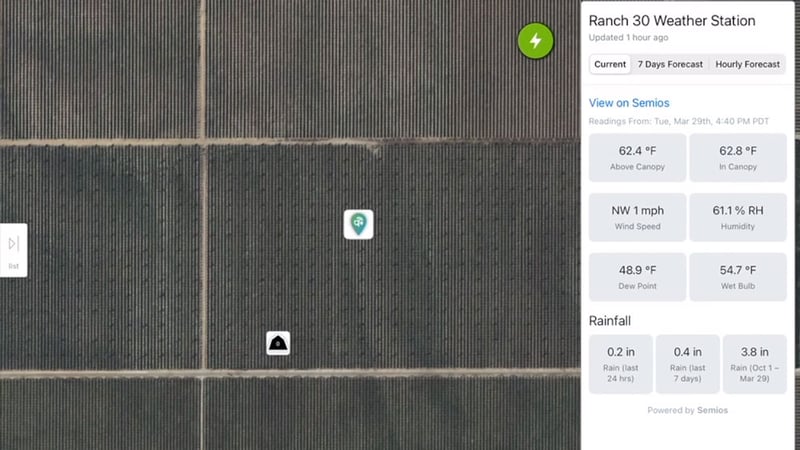 View your current and forecasted weather data from Semios on the Agworld platform


By bringing Semios' weather and pest data that helps inform pest management decisions into the Agworld platform, users can simplify the process of creating and reviewing recommendations by having all the agronomic information and tools they need in one place.
Key Features
Users can now view the following data from Semios on the Agworld platform:
View current weather data from your in-field Semios weather stations
View Semios weather forecasts to check when conditions are ideal for sprays
View Semios trap counts and degree day data to inform your recommendations and applications
How It Works
Once the integration is set up for your account, you will be able to view Semios weather, trap counts, and degree day data directly from the maps page of the Agworld app.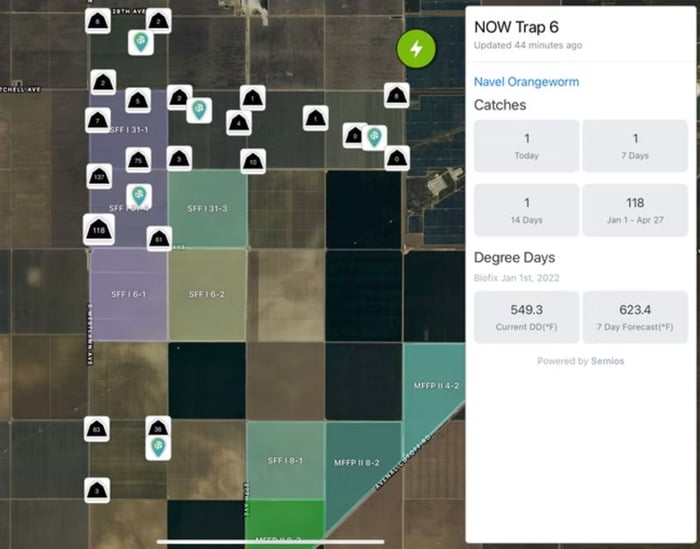 View your trap counts and cumulative degree days data from Semios on the Agworld platform
You can view short video demos of the integration from this Agworld Help article.
Requirements
Agworld subscription
A Semios account with access to weather and/or trap data
Get More Information
Fill out the form below and we will send more information your way:
---
About Semios:
Founded in 2010, Vancouver-based Semios offers Precision Agriculture as a Service™ that includes real-time crop data and pest management tools for growers of tree fruit, nuts and other permanent crops. Leveraging a network of sensors that provide more than 500M data points measuring climate, soil moisture, insect and disease activity daily, we apply big data analytics and machine learning to reduce and mitigate crop risks for growers. Semios has been named to the Global Cleantech 100, an annual list of the 100 most innovative cleantech companies globally, and the Thrive Top 50, list of the 50 leading global AgTech companies. Semios continues to grow its crop management platform by partnering with other leading decision-aid farming solutions. Learn more about Semios at www.semios.com.
About Agworld:
Part of the Semios family of companies, Agworld is an international Information Management Platform, founded in 2009, with an Australian headquarters in Perth and a global leader in collaborative farm management, enabling farmers, advisors and third parties to work together as one on a single platform. Agworld's industry-leading standardised database makes it quick and easy to create accurate, reportable farm data. With over 100 million acres paid for and managed in Agworld across five countries, Agworld has the experience, capacity and market presence to support the delivery of innovation to farmers, agronomists and those that serve them. Learn more about Agworld at www.agworld.com.